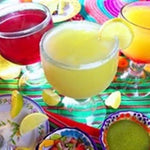 Ingredients
Directions
Moisten the rim of a glass with a lime wedge. Sprinkle salt onto a plate. Lightly dip the moistened rim into the salt. Place a large ice cube in the glass and freeze the prepared glass until ready to serve.

Fill a cocktail shaker with fresh ice. Add tequila, triple sec, and lime juice. Cover and shake vigorously until outside of the shaker has frosted. Strain into the prepared glass and garnish with a slice of lime.
Tips
For the best results, be sure to use fresh ice, fresh limes, and a nice bottle of triple sec, like Cointreau(R). You'll also want to use a decent 100% agave white tequila, like the Don Abraham's Single Estate Blanco Tequila I enjoyed, but having said that, feel free to use one with a shorter name.
Some like to add a dash of agave nectar for a little extra sweetness, but I do not.